Max the Demon vs Entropy of Doom
A graphic novel that explains the physics of heat, energy, entropy, and the connection between entropy and information.
Max, a character based on the mythical Maxwell's Demon, is sent on a mission to help save earth from environmental disaster. First, Max must learn about energy, heat, and entropy from the historical giants of science. Along the way there is villainy and near catastrophe. This fun-to-read adventure story explains the first and second laws of thermodynamics in a way that is accessible to everyone.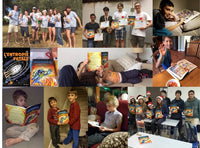 Book Reviews
I really enjoyed the demon adventures of Max! A good introduction to the central ideas of entropy and energy, without sacrificing accuracy. It will inspire school students and help them understand basic science in a fun way. A really cool book!

F. Duncan M. Haldane, 2016 Physics Nobel Laureate, Princeton University
Entropy is a measure of disorder that affects everything from the emergence of life to the cosmic expansion. I can think of no better way to introduce this concept to a non-professional, but curious audience, than this witty, entertaining book." 

Mario Livio, Astrophysicist and Author of Brilliant Blunders, The Golden Ratio, Is God a Mathematician
A most impressive book that pioneers a style of presentation that makes sophisticated ideas in physics accessible to a wide audience in the form of an entertaining and beautifully illustrated story.

Michael B. Green, Pioneer of String Theory, Lucasian Professor of Mathematics, Cambridge University
About the Authors
Assa Auerbach is a Professor of Physics at Technion, Israel. He researches the theory of condensed matter and is fascinated by superconductivity. 
Richard Codor makes a living drawing humorously as an editorial cartoonist, story artist for TV/films, and creator/illustrator of the Joyous Haggadah.